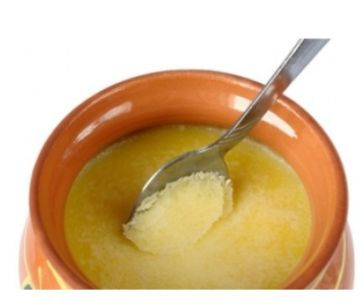 Six MUST haves in an AYURVEDIC KITCHEN
S
ix MUST haves in an AYURVEDIC KITCHEN
1.
Ghee
- an essential in any Ayurvedic kitchen! Also known as Indian clarified butter and pronounced
as gee. It was traditionally made from butter which was prepared from buffalo milk. Today, cows milk butter is commonly used.
As its heated for longer while being made, ghee has a distinct stronger, nuttier, flavour and a slightly darker colour than standard butter. Rich in short-chain and medium-chain fatty acids and these fatty acids are not associated with any cardiovascular disease. Also Ghee is naturally rich in Fat Soluble Vitamins A, D and E.
2. Turmeric: Referred to as the Indian Saffron as well as GOLDEN spice, Turmeric is mildly bitter and
pungent in taste. It has been known for centuries in the East for its many valuable therapeutic qualities, including anti-oxidant, anti-inflammatory and anti-septic properties. Widely regarded as an indispensable part of Indian cuisine when it comes to cooking, Turmeric enhances metabolism and helps the body to reduce undesirable fatty deposits, boosts immunity, improving skin & muscle tone and in many cases has proven to help beat cancers as a strong palliative remedy.
3. Cinnamon: Pungent and sweet at the same time, this aromatic bark of tree is an effective spice for
strengthening and enhancing blood circulation in body esp. for Venous return to heart. It has antiseptic and detoxifying properties & is particularly good for strengthening and enhancing the immunity. Cinnamon is an excellent addition to all the desserts, helping the blood sugar level stay stable and prevent any abnormal blood sugar level spikes. It has also proven to help against Cholesterol and High Blood Pressure.
4. Cumin seeds: Widely used as a flavouring agent and condiment in curries and lentils (Daal curry)
in India. Cumin is known for its aromatic, digestive and healing qualities. This spice is used as a stimulant for digestive disorders as well as antispasmodic and antiseptic. It also enhances the functioning of the liver and pancreas, enabling the body to cleanse the toxins and absorb nutrients better on daily basis. You can have it on its own, roast it, or crushed cumin in powder form and sprinkle it onto the salads or smoothies.
5. Mint: is one of the most commonly used herbs in Asian kitchens. It is not just a powerhouse of
medical properties, with its distinctive flavour lends to creating some spectacular dishes too. In most Indian households, Mint chutney is a popular condiment that accompanies almost every meal. Mint also helps in digestion, relieves cough and cold, body pain, and fatigue. It is recommended for maintaining oral hygiene and is used to treat digestive allergies.
6. Fresh ginger esp. in Indian spiced chai… This is my most favourite one, the king of ayurvedic
kitchen an irreplaceable spice in any kitchen, Ginger brings flavour and pungency to food and is
used widely as a digestive. Known as the universal medicine for its healing properties, Ginger provides an excellent remedy for respiratory conditions caused by aggravation of Kapha and Vata. Apart from vegetables and lentils, this invigorating spice is also used in herbal tea to calm effects of
common cold, flu and cough, it is proven to boost immunity and helps fight against infections.
Namaste and see you very soon.